Raw Zucchini Pasta with Avocado and Basil Cream
Tuesday, 18 August, 2015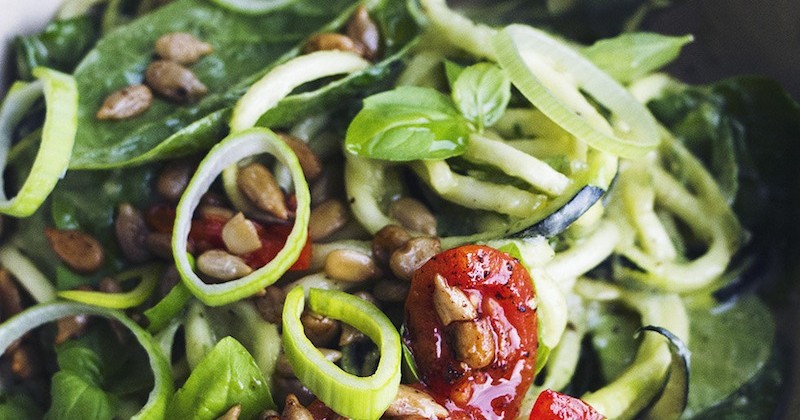 Raw Zucchini Pasta with a raw creamy avocado and basil sauce and sweet cherry tomatoes. It's just as good as it sounds. Fresh and absolutely wonderful. One glorious benefit of the often-times sweltering summer heat is that it encourages us to step away from the stove, pick up a fun kitchen gadget like a spiralizer, and keep it fresh, raw, and light instead. Enjoy!
Per 100g
Energy:

10 kcal / 42 kJ

Fat:

10 g

Protein:

10 g

Carbohydrate:

10 g
Preparation:

15 min

Cooking:

30 min

Ready in:

50 min
Instructions
Make the zucchini pasta using a spiralizer. If you do not have a spiralizer you can do this part with a cheese slicer or mandolin, alternatively, cut thin pasta sheets with a knife. Salt with a little Himalayan salt and let sit to soften.

Mix all the ingredients for the avocado - and basil cream. Season to taste.

Mix the pasta with avocado cream and spinach leaves. Add into serving bowls and top with the tomatoes, basil, leeks and sunflower seeds. Drizzle with a little olive oil and garnish with a little sea salt or Himalayan salt.