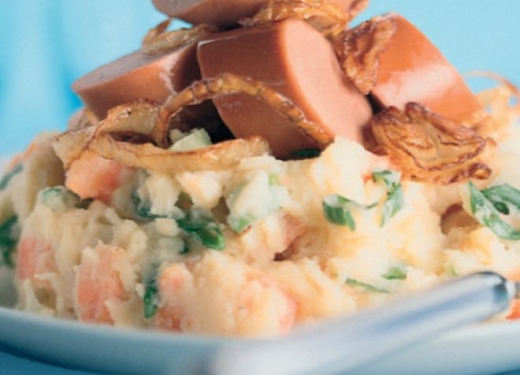 Vegetarian Frankfurter with Root Vegetable Mash and Fried Onions
By Gendji Published: December 7, 2011
Yield:

4 Servings

Prep:

15 mins

Cook:

30 mins

Ready In:

45 mins
[recipe] Celeriac Also know as: celery root, celery knob, turnip-rooted celery, knob celery, Germany celery, soup celery, turnip …
Ingredients
Instructions
In a large pan, cook the sweet potatoes, carrot and celeriac in boiling salted water for 20-25 minutes or until tender. Drain, add the butter and milk and mash the vegetables.

Stir in the chopped spring onion and season to taste with the nutmeg, salt and pepper. Keep warm while you prepare the frankfurters.

Meanwhile, heat the vegetable oil and fry the onion until crisp and golden and then dry on absorbent kitchen paper.

Cook the frankfurters in boiling water as directed on the pack. To serve, divide the mash between four plates. Cut the veggie Frankfurters into thick slices then pile on top of the mash. Top each serving with the fried onions.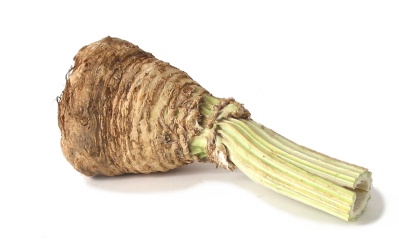 Celeriac Also know as: celery root, celery knob, turnip-rooted celery, knob celery, Germany celery, soup celery, turnip celery and céleri-rave.
This underrated vegetable is a relative of celery that's been developed for its root, which has a pleasant celery flavor. It's popular in France and Northern Europe, where it's usually peeled and cooked in stews or grated and served raw. Many large supermarkets carry celeriac; select smallish roots that are heavy for their size.
Substitutes: turnips OR celery ribs (weaker flavor) OR parsley root OR (in salads of grated vegetables) carrots + dash celery seeds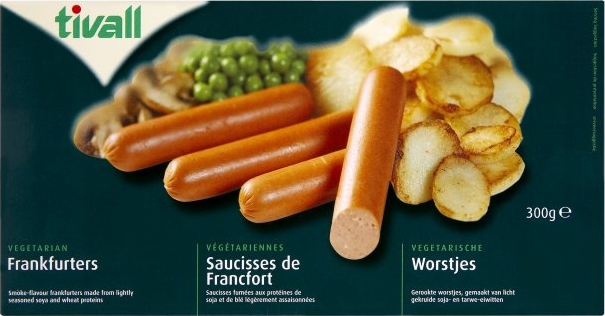 Tivall – Vegetarian Frankfurters Succulent, tasty vegetarian Frankfurter style sausages with a delicate smoked flavour. 8 per pack/ 240g